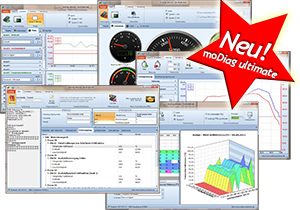 News
NEW! moDiag ultimate - improving the approved
moDiag professional becomes moDiag ultimate!
Redesigned from scratch it is ready for new requirements and upcoming operating systems.
The already known good user-interface has been improved and modernized. New features have been added.
The best of all: moDiag Ultimate offers the performance of the professional and more to a much lower price!
Read more!!
Welcome to the home of moDiag OBD2 scan software!
To view this page in german click here!
moDiag is the first OBD2 scan software with special features for the optimized adjustment of LPG- or CNG conversion kits. moDiag is suitable for all cars compliant to OBD2 / EOBD (in the EU: cars with Otto-engines from year 2000/2001 on; Diesel from 2003/2004 on).

Saves you the hassle of manipulating with external OBD2 scanners and laptop!


Adjust LPG kits right to the point!


Works flawlessly with all known LPG-adjustment softwares!


Recommended by education centers and LPG kit manufacturers!


moDiag comes in three different versions:
moDiag ultimate

- the choice of the professionals
Special features allow the adjustment of LPG kits in a breeze. It allows the full documentation of a car´s conversion. Create 3D-Maps from three live data sensors to easily identify problematic areas.
moDiag expert

- the economical solution
Supports all relevant OBD2-Modes. Based on moDiag professional it has less visualization modes but still is a powerfull OBD scan tool.
moDiag express

- the basic version for free!
moDiag express lets you read/erase diagnostic trouble codes and shows live data from the ECU.

To read more, just click here

moDiag Details
Click here for an overview of the features:

moDiag-Versionen